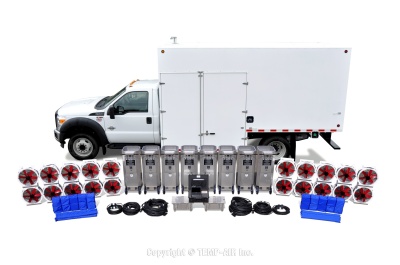 Our Equipment - Built in Generators
Our Temp - Air Equipment has built in generators to supply the power for our all electric heaters. It Generally takes about an hour or more to heat the area up to bed bug kill temperature 119 degrees. We keep rising and end up at 125 -135 degrees. After we reach kill temperature we hold the temp for at least 3-4 hours. You can expect the entire process to take 5-6 hours or more. There are so many different scenarios with bed bugs that we must adapt to the situation we are faced with.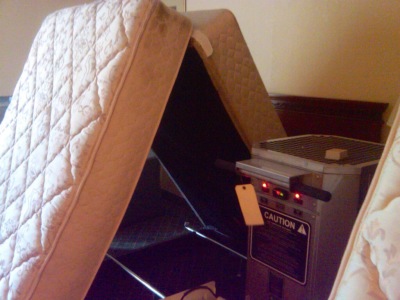 Bed Bugs have no resistance to Heat !
The biggest issues with eliminating bed bugs is their ability to transfer from one area to another. With their resistance to pesticides that makes it even more difficult. We also apply some residual materials around high risk areas and wallplates during heat-up.
This with our Heat Treatment together gives us the best method possible.
Heavy Infestation Experts

As word spreads about the effectiveness of our bed bug control using heat treatments, more and more pest management companies are understandably trying  to imitate Clark Pest Remedy by offering bed bug heat services.  The fact is that not all heat treatments are the same.
When it comes to bed bug heat treatments, there is no substitute for experience!
Clark Pest Remedy pioneered the first bed bug heat treatments in Georgia in 2007.
Clark Pest Remedyis the most experienced heat remediation company in the state.
Clark Pest Remedyemploys the most experienced heat remediation technicians in Arizona.
Clark Pest Remedy already knows how to reach lethal temps without damaging your property.
Clark Pest Remedy technicians are all highly trained, highly experienced, and state certified pest management professionals.
All heaters used byClark Pest Remedy Pest Solutions:
Meet or exceed OSHA safety and environmental standards.
Are EPA registered.
Are specifically designed to heat structures.
Are approved for residential and indoor use.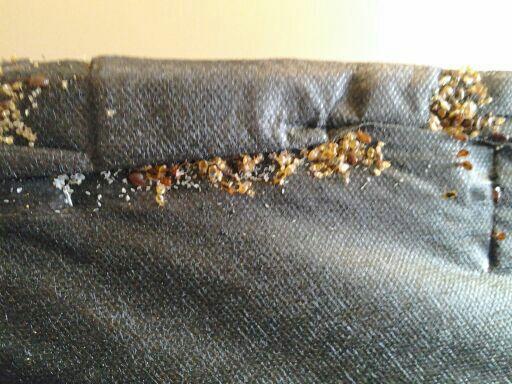 Treatments
Quick (one time) treatment times – 5-7 hours, from set up to tear down.
Efficacy is not affected by weather conditions (winds, cold, rain etc..).
Off gases organic musty odors.
Treatments monitored by state of the art wireless probes.
Removes moisture in zones or structures, which is conducive to infestation and enhances the bed bug life-cycle.
Improves indoor air quality by using filtration during many of our heat processes.
The Thermal Heat Process is a non-chemical process that works the first time!  The process is much safer and requires substantially less precautions than traditional chemical treatment methods.  This means you can resume productivity in a more timely matter.  Our process uses heated air to create positive pressure in the rooms; resulting in consistent targeted air temperature in all areas of the room including cracks, crevices and voids, where the pests and their eggs are hiding.  Heat kills bed bugs by heating the room or structure to 130-135 degrees Fahrenheit. This level of heat kills the entire life cycle of the bed bug from eggs to adults and holding that lethal temperature for 4 hours also kills and eliminates, common mold spores and allergens that trigger asthma, and oxidizes odors.  We arrive in discreet vans or trucks and allow for your business to remain operational in areas not being treated for bugs.
After the heating process has been completed we offer two week or 30 day chemical and k-9 post treatment follow ups and inspections to ensure all the bugs have been eradicated.  Our inspections are performed by real experts and not some "third party" hired to check our work. 

Tenant Online Video for Bed Bug Education ! 

Great For Small Groups of Tenants

to be viewed at Tenant Meetings

Bed Bugs on the run during a Heat Treatment.
Little Do They Know - There is no excape
They have many Bed Bug Pictures on Bed Bug General Website. Click here if you want to see them